PLANT NEWS
4/10/2023
A new species of Friesodielsia, named Friesodielsia lalisae, has been identified by Damthongdee et. al. in Narathiwat, Southern Thailand. Friesodielsia lalisae has different flower morphology from its close relatives Friesodielsia argentea and Friesodielsia glauca, with longer inner petals, differently shaped sepals, and a different ratio of inner petal length to outer petal length. It also has a different leaf shape than Friesodielsia argentea and differences from Friesodielsia glauca in the indumentum of young twigs and the length of flowering pedicels. As of now, it appears to be endangered and in need of conservation efforts. The new species is named after a celebrity, Lalisa Manobal, in honor of her being an inspiration to the first author. Here is a picture of Friesodielsia lalisae from the article!
---
4/7/2023
A new orchid in the subtribe Malaxidinae has been discovered in the Bosque de Protección Alto Mayo in Peru. The new species is Liparis altomayoënsis. The article describing it is in both English and Spanish, so if you prefer to read about this plant in Spanish, you can do so by following the link! The plant has been placed in Liparis section Decumbentes because of the morphology of its rhizomes and stems, but it is very distinctive within this section and may end up being assigned somewhere else in the future. Compared to other species in the section, it has shorter upwards stems with spirally arranged, reticulate-veined leaves and an unusually shaped labellum. Its 3 populations are all growing in a protected area, so it doesn't seem to be at risk. Here is a photo of this beautiful new plant from the article.
---
3/30/2023
A new species, Aspidistra phongdiensis, has been discovered in Vietnam's Thua Thien Hue province. The species it is most similar to morphologically is Aspidistra khangii, but it has several differences from this species - most visibly, it has wider leaves and its perigone is very different. The new species' perigone is white on the outside with 6 lobes. The new species also has yellow pollen, introrse anther dehiscence, and a widely obconic pistil. Here is a picture of Aspidistra phongdiensis from the article!
---
3/30/2023
A recent study recorded popping noises produced by tomato plants experiencing stress from being too dry and from being cut. It is unclear whether these noises are meant to communicate or if they're just a side effect of the plants' physical state. Other plants and not just tomatoes were found to make these noises, so it seems to be a pretty widespread phenomenon. If you follow the link to the article, you can listen to an audio file of these noises! Here's a photo of the article of the tomato plants set up with their microphones.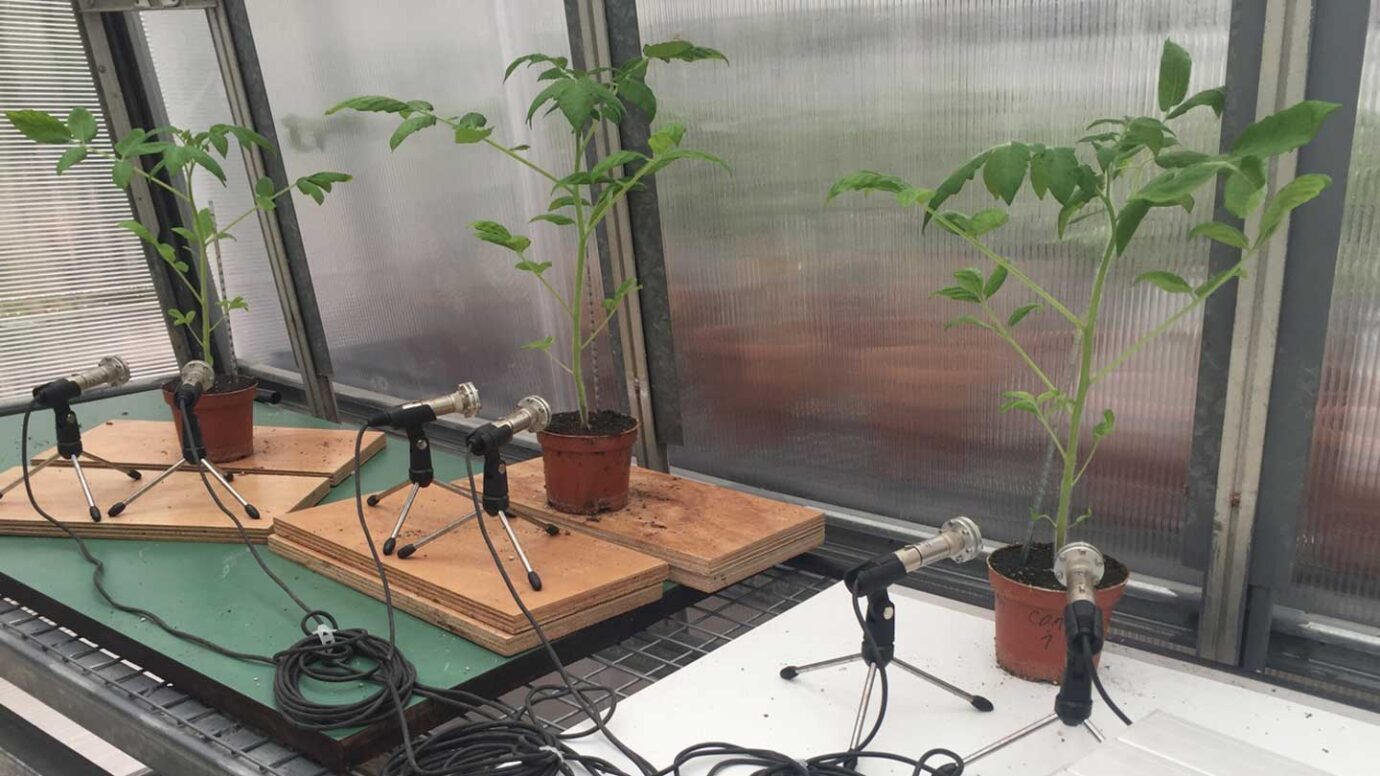 ---
3/27/2023
Two new Pinguicula species have been discovered growing in the Andes mountains in Ecuador. These are carnivorous plants with lovely little flowers, and the new species are very rare - they are currently believed to be endemic only to one small location each. Pinguicula jimburensis was found growing on the shore of a highland lagoon at 3400 m, and Pinguicula ombrophila was found growing on a nearly vertical rock face at 2900 m, both in the highly biodiverse Amotape-Huancabamba zone. Growing in such remote areas, the plants are unlikely to be bothered by direct human interference, but they are vulnerable to climate change because of how specific the conditions they need to thrive are. Here are pictures from the article of the plants! The first is Pinguicula jimburensis, and the second is Pinguicula ombrophila.
---
3/22/2023
17 new species of Costus and 1 new species of Chamaecostus, both genera placed within the family Costaceae, have been discovered. The authors of this study are currently working on another study which will be a complete revision for all Neotropical Costaceae, so that's something very exciting to keep an eye out for! For now, the new species are as follows:
Chamaecostus manausensis is similar in appearance to Chamaecostus congestiflorus, but it has a narrowly cylindric inflorescence and non-fimbriate labellum. Here is a photo of this plant from the article:
I will be listing all the new Costus species as a group here and only posting the images of my favorites so I don't clog up this whole page with just them, but please check out the linked article for more detail about all of these amazing plants! The new species are Costus alfredoi, Costus alleniopsis, Costus alticolus, Costus antioquiensis, Costus callosus, Costus cochabambae, Costus convexus, Costus douglasdalyi, Costus gibbosus, Costus mollissimus, Costus obscurus, Costus oreophilus, Costus pitalito, Costus prancei, Costus pseudospiralis, Costus rubineus, and Costus whiskeycola! Here are photos of, in order, Costus whiskeycola, Costus oreophilis, and Costus callosus.
---
3/21/2023
A new species of Hoya named Hoya spectatissima has been discovered in Yunnan Province in China. This new species has succulent leaves, pink flowers, and sub-rhombic corona lobes, but is otherwise similar in appearance to Hoya lyi. It lives in a karst habitat and grows climbing on rocks in Guanlong Village, Gengma Hsien and Menglai Town, Cangyuan Hsien. Here is a photo from the article of this beautiful plant!
---
3/17/2023
The new orchid is Spiranthes hachijoensis, and it was growing commonly in urban areas but had never been officially named! It is a beautiful glassy pink orchid. Previously, Spiranthes hachijoensis plants were thought to be part of the species Spiranthes australis, but molecular analysis has shown that they are a separate species. Here is a photo from the article!
---
3/14/2023
Through morphological, molecular, and cytogenetic analysis, a new species of sedge, Carex quixotiana, has been discovered in Spain's La Mancha region. The genus Carex is notorious for being complicated and annoying to ID, so this plant looks a lot like many other plants, which is why so much analysis was necessary to determine that it was really a different species! It is similar to Carex reuteriana and Carex nigra, but has different leaf width and basal sheath color than them. Furthermore, its terminal male spike length is different from Carex nigra, and its leaf stomata distribution, utricle indumentum and chromosome number are different from Carex reuteriana. Of the two, it is more closely related to Carex nigra, even though the plants that are now considered part of the new species were once identified as Carex reuteriana! Here are photos from the article depicting the habitat Carex quixotiana grows in, as well as some photos of the plant itself.